social dinner logistics for participants
At the end of the first day of the conference, delegates who signed up for the gala dinner and guided tour at the Hydrodynamic Plant will be divided into two groups: red and blue, depending on the color of the brochure included in the delegate welcome pack. While one group visits the plant the other will enjoy the gala dinner and vice versa. Please don't forget to bring your Hydrodynamic Plant brochure with you!
To join the venue you can drive, walk or use the shuttle bus provided only if you have pre-booked it.
The walk from the conference venue to the Plant takes about half an hour.
The weather forecast for Monday doesn't look good, so for those of you who do not want to walk, remember to sign up for the shuttle bus by Sunday 11th end of day.
​The shuttle bus will leave at 7.10pm outside the conference venue. After the dinner, there will be one bus leaving at 10.30pm and another at 11pm

to go back to the

Magazzino

42.

THE HYDRODYNAMIC POWER PLANT
The modeFRONTIER Users' Meeting 2014 Social Dinner is an exclusive event combining professional networking opportunities and a step back in time through modern engineering history. The event will be held in an important piece of industrial archeology at the heart of the old port of Trieste: the hydrodynamic power plant, built in 1890.
Together with Hamburg, Buenos Aires, Calcutta and Genoa, Trieste was one of the first ports in the world to be equipped with a hydrodynamic plant. The first alternators were exhibited at the Paris Exhibition in 1881, while the first electric motor was invented by Galileo Ferraris in 1885. Until 1988 the station provided power to cranes, located outside the warehouses to lift goods to the upper floors, and elevators, located inside different port warehouses.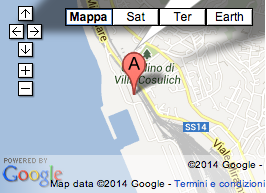 ESTECO's guests will have the chance to visit this unique combination of technology and Rundbogenstil architecture through an in-depth guided tour operated by two prominent engineers: Carlo Poloni and Enrico Nobile. Founders of ESTECO and full professors at the University of Trieste, they will lead you across a rare example of machines that were in use for more than a century.
This unique setting is the ideal backdrop to an engineering networking event and provides the perfect opportunity to meet UM14 speakers, modeFRONTIER users and ESTECO strategic partners.