UM14, the two-day conference dedicated to modeFRONTIER, celebrated the 15th anniversary of the foundation of ESTECO with record figures: 221 participants, 48 speakers, 7 industry&methodology sessions in addition to keynote speeches, 7 technology & channel partners exhibiting, 2 thematic roundtables and the launch of the 1st edition of the ESTECO | illy design competition.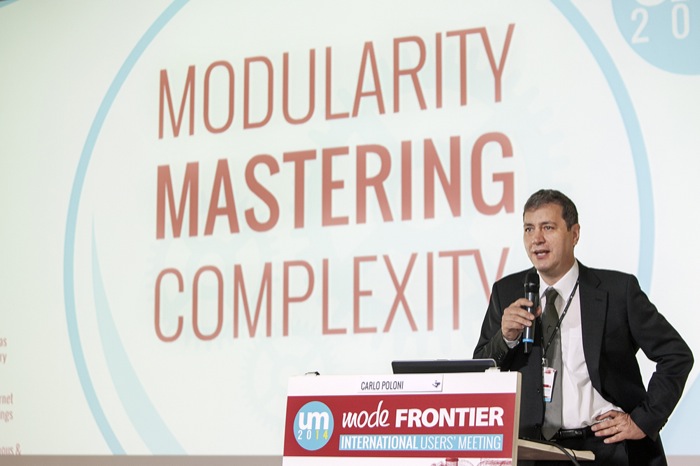 Carlo Poloni, President of ESTECO, kicked off the first day of the International modeFRONTIER UM14 by hinting at the multifaceted scenarios characterizing the design and simulation technology industry today: complexity is stratified and embedded in the majority of products and services that all of us are in contact with daily. Turning such complexity into an advantage is the challenge of every big player aiming to excel in the innovation race.
This year's edition of the modeFRONTIER Users' Meeting wanted to show the over 220 attendees how ESTECO customers and partners leverage design optimization technology to gain and maintain leadership in their respective industries.
Underlying theme from #mfUM14 is to use optimisation design to give designers more options and let engineers get back to being innovative

— DEVELOP3D Magazine (@develop3d) May 13, 2014
The UM14 agenda saw the contribution of many important players at the forefront of research: Mr. Yamazaki form Fujitsu Labs demonstrated how modeFRONTIER is indispensable in his team's mission to ensure high product reliability by "visualizing of un-visualized data" when performing physical and chemical analysis of hardware.
Kazuma Goto illustrated Arup's design process as a holistic approach that "draws upon our multidisciplinary skills from planning and architecture to building design incorporating structural, civil, MEP engineering and other specialist skills". The example of the Taiwan Tower project illustrated how parametric modelling and optimization are crucial to filling the gap between designers expressing their creativity in architectural shapes and time, regulation and budget constraints faced by manufacturers.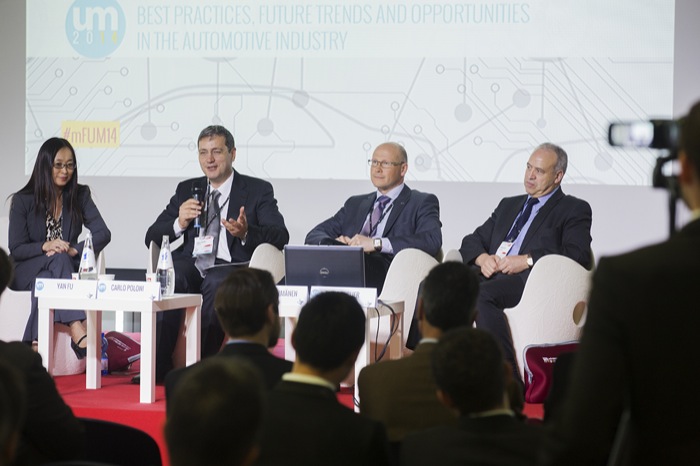 Reliability and energy efficiency are, on the other hand, the drivers of ABB's product development strategy. Daniel Wäppling, Global Research Manager at ABB, explained that optimization-based development will become increasingly important in the industrial automation industry in order to meet these targets.
The Automotive Roundtable provided a stimulating overview of the nature of complexity both at vehicle development level and organizational process level: Mikael Törmänen (Volvo Car Corporation), Tayeb Zeguer (Jaguar Land Rover) and Yan Fu (Ford Motor Company) brought their experience of using optimization to manage articulated workflows and hit significant cost and time savings.
Big old automotive get together here at #mfUM14 - JLR, Ford + Volvo all discussing importance of sim optimisation in CAE

— DEVELOP3D Magazine (@develop3d) May 12, 2014
Technical best practices and remarkable results linked to these macro topics were further analyzed during the industry and methodology sessions that ranged from automotive to aerospace, energy, electronics, mechatronics, architecture and civil engineering, logistics and biotechnology.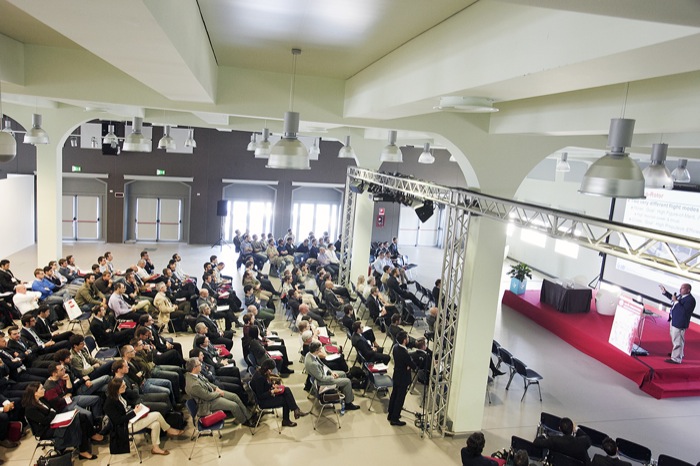 Whirlpool orchestrating system modelling, Bombardier enhancing the aerodynamics of the fastest train in Europe for Trenitalia, Atkins optimizing the cost of flooding and Nidec enhancing an under-patenting induction motor are just a few examples of the variety of applications and domains where ESTECO technology has become a strategic asset.
Fostering this role is precisely the vision driving the growth of ESTECO's product portfolio: CTO and Product Managers presented modeFRONTIER, SOMO and mF4LV new releases and features, representing an ever evolving set of solutions that cover the concept, simulation and validation phases of the design process and supporting engineering teams by nurturing a collaborative and modular mindset.
ESTECO not only helps industrial players stay ahead of the competition but, over time, it has brought together a remarkable group of modeFRONTIER users from academia, as reflected by the talks of professors and researchers coming from 13 different universities and research centers including MIT, VTT Technical Research Centre of Finland, DCTA/FUNDEP Brazil, Politecnico di Milano, MTU Friedrichshafen and the universities of Warwick, Strasbourg, Pisa and Troyes. While these presentations focused on advanced research projects with considerable impact at an industrial level, the Academic roundtable at UM14 was dedicated to the role of optimization theory and practice at an educational level.
An insightful 2 days at the #mFUM14 with fantastic success stories. Find out how to benefit from mF at the Workshop http://t.co/X6cLpMOkHQ

— EnginSoft UK (@EnginSoftUK) May 13, 2014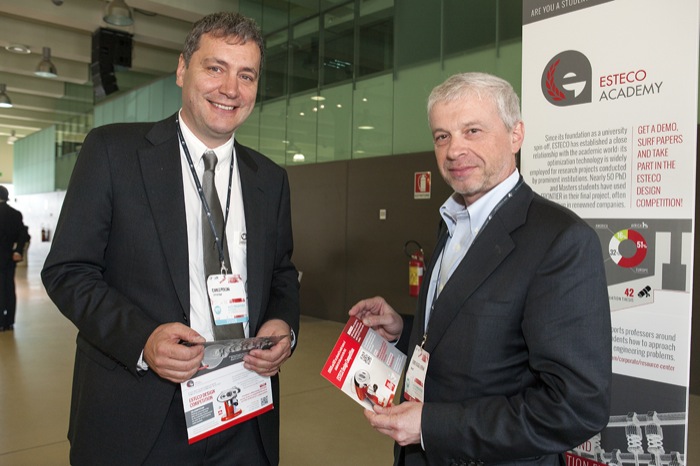 ​The icing on the UM14 cake was the official launch of the ESTECO | illy Design Competition that will challenge students of Engineering, Chemistry, Physics or other scientific disciplines in the search for the most sustainable hot water pressurization system for one of the illycaffè espresso machines.
Once more, thanks to the contribution of the modeFRONTIER community, UM14 offered up a rich collection of best practices in the development of complex products and systems and laid the groundwork for the next generation of engineers to get closer to the design optimization world.
By supporting designers in the quest for the most advantageous tradeoff between model accuracy and risk of misinterpretation, ESTECO shows its commitment to provide a flexible framework for integrating and enhancing all aspects of the simulation process. As Marc Halpern – VP Research at Gartner – cleverly pointed out during one of the keynotes, understanding the different facets of complexity and defining precisely what is to be modelled and how, is critical to effective system design.